1. What is a chronological resume?
A chronological resume is a resume format that lists your work history in order of when you held each position, with your most recent job listed at the top of the section (i.e. reverse-chronological order).
The chronological resume is the most commonly used resume format in 2021, and is ideal for most job seekers because it presents qualifications in a logical way and accommodates people with all levels of experience.
The only time you may want to avoid using a chronological resume is if you have gaps in your work history or frequently change jobs. In these cases, consider using a skills-based functional resume or the hybrid combination format.
Here's what a standard chronological resume looks like:
Structure of a chronological resume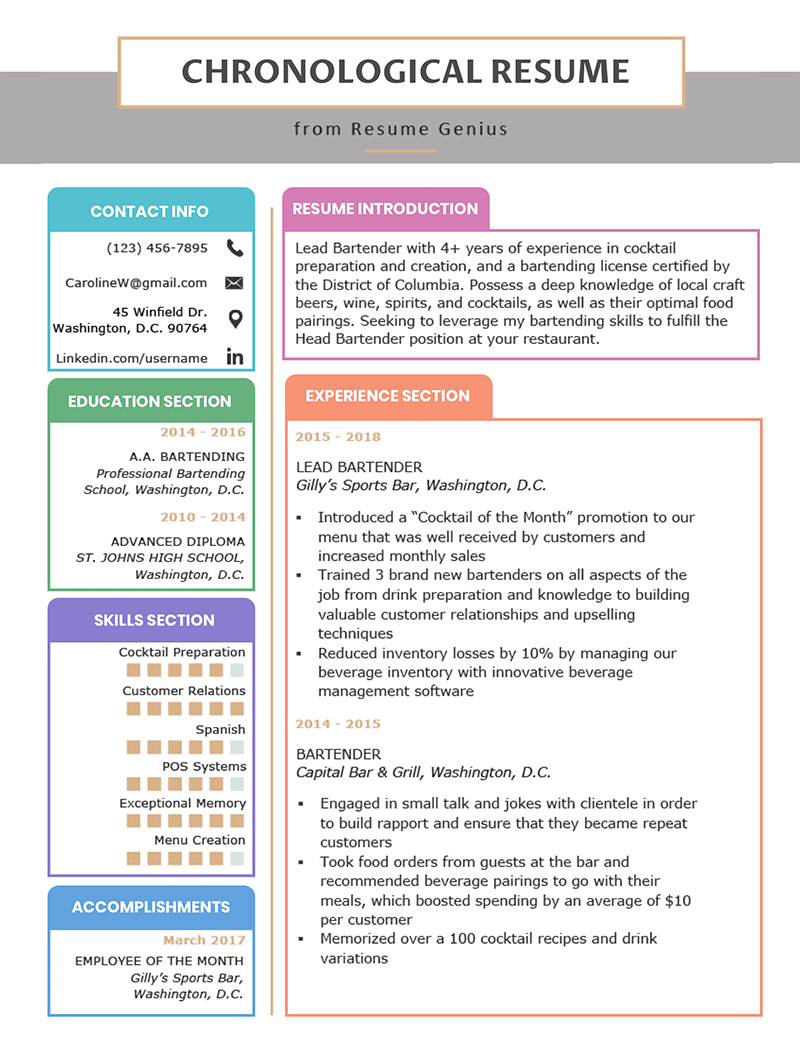 Chronological resume template & example
Ordering your sections properly is important when writing a chronological resume.
To make it easy, here's a reverse chronological resume template you can copy and paste and fill in with your own information:
Chronological resume template
Want to see this format in action? Here's an example of a chronological resume that you can download and use as for reference:
Chronological resume example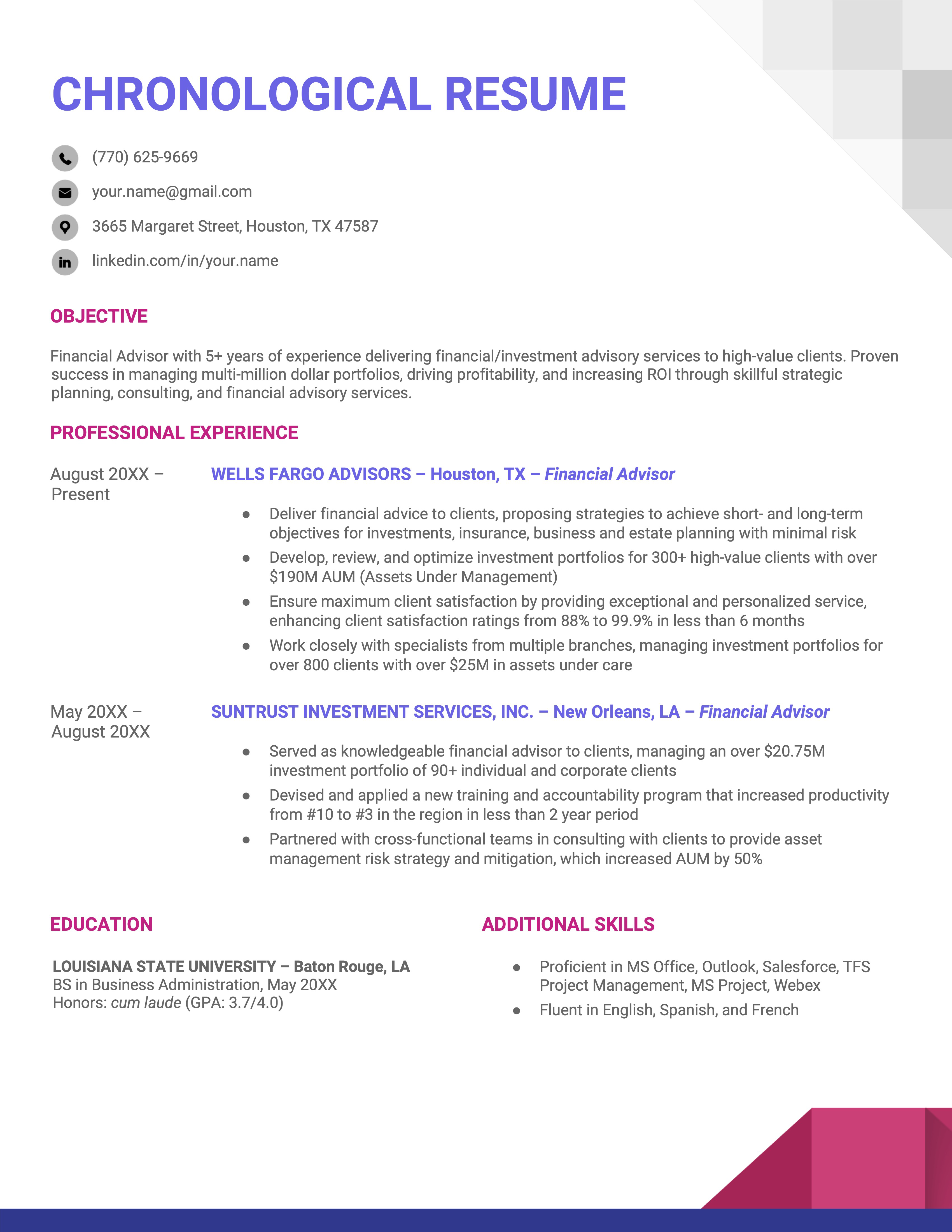 2. How to order a chronological resume
Not sure how to write your resume? Here are five steps to follow when ordering your resume in the chronological format:
1. Put your contact information at the top
List the following information at the top of the page in your resume header:
First and last name
Email address
Phone number
Additionally, include a link to your personal website (but only if it's professional) or your LinkedIn profile.
Also note that while adding a mailing address to your resume used to be standard practice, it's no longer necessary because most employers will contact you via email.
2. Open with a strong resume introduction
One of the best ways to get employers to read your resume is by starting it off with a convincing resume summary.
A resume summary acts as a highlight reel for your resume. In a few sentences it provides a quick overview of your relevant qualifications, goals, and most valuable skills.
Here's an example of a great resume summary on a chronological resume:
Administrative Assistant with 2+ years of experience preparing flawless presentations, assembling facility reports, and maintaining the utmost confidentiality. Possesses a B.A. in History and expertise in Microsoft Excel. Looking to leverage my knowledge and experience into a role as Project Manager.
3. Write your work experience in reverse chronological order
Your resume's work experience section is the core of a chronological resume.
List each relevant job you've held in the order you held it, with the most recent position at the top. Under each position, provide three to five bullet points outlining your primary accomplishments and responsibilities.
Keep in mind that the goal of your experience section is not necessarily to provide a list of tasks you performed at your past jobs, but to showcase your achievements and how you excelled in each role. The best way to do that is to add measurable accomplishments, with numbers, to your bullet points.
Numbers illustrate your accomplishments and provide the employer with a better understanding of your abilities.
Another way to make this section more effective is to start each bullet point with an action verb. Action verbs help you frame your responsibilities in a clearer, more dynamic way, making it easier for the HR manager to understand exactly what you're capable of achieving.
Here's an example of an action-oriented experience section on a chronological resume. Note the use of dollar amounts, percentages, and other specific numbers that illustrate the scope of the job seeker's accomplishments: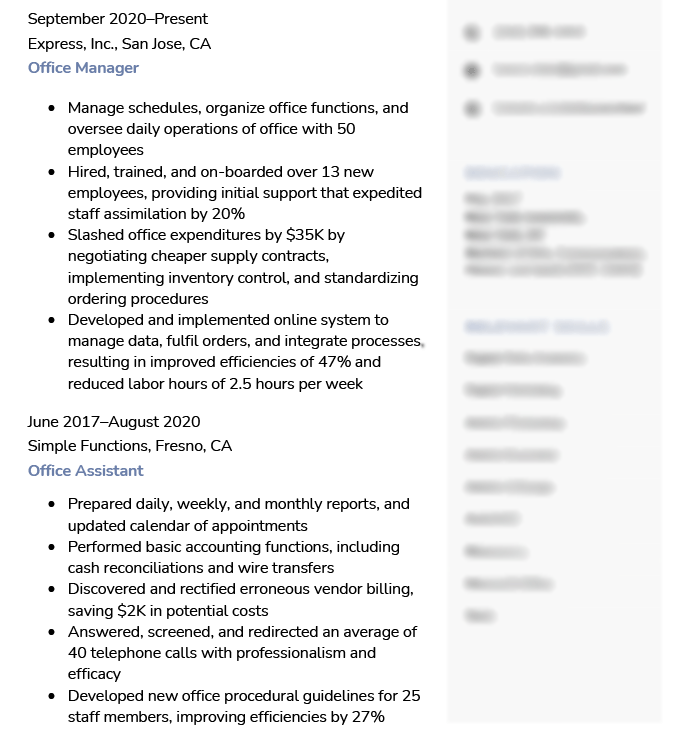 4. Include a brief education section
Unless you're a student or a recent college graduate, your resume's education section should be short and simple.
Just include the following information:
Name of your school
The city and state it's located in
The degree or certification you received
When you graduated
Your GPA (if it's 3.5 or higher).
Here's what an education section looks like in practice:

However, if you're still in school or just graduated, the education section of your resume will be a bit different. For example, educational experience should be listed before professional experience on a student resume.
5. List your relevant skills
Include a skills section on your resume and list out any hard or soft skills you didn't have an opportunity to specify in your experience section.
Your skills section should be concise, and only include resume skills that are directly relevant to the job you want.
If you're not sure what skills to include, first take a look at the job description for the position. Usually, employers spell out the exact qualifications they're looking for in the "Responsibilities" section of their listing.
For reference, here's an example of what a strong skills section looks like: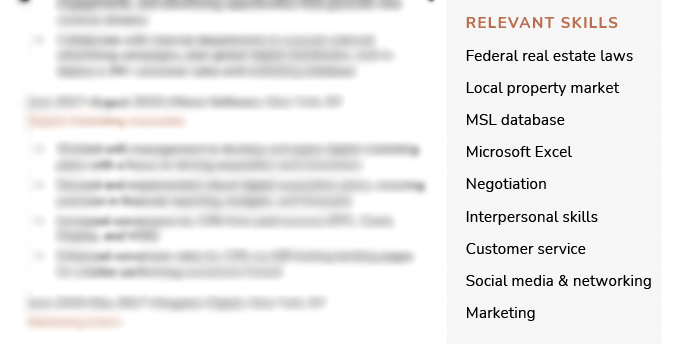 The post appeared first on Resume Genius.